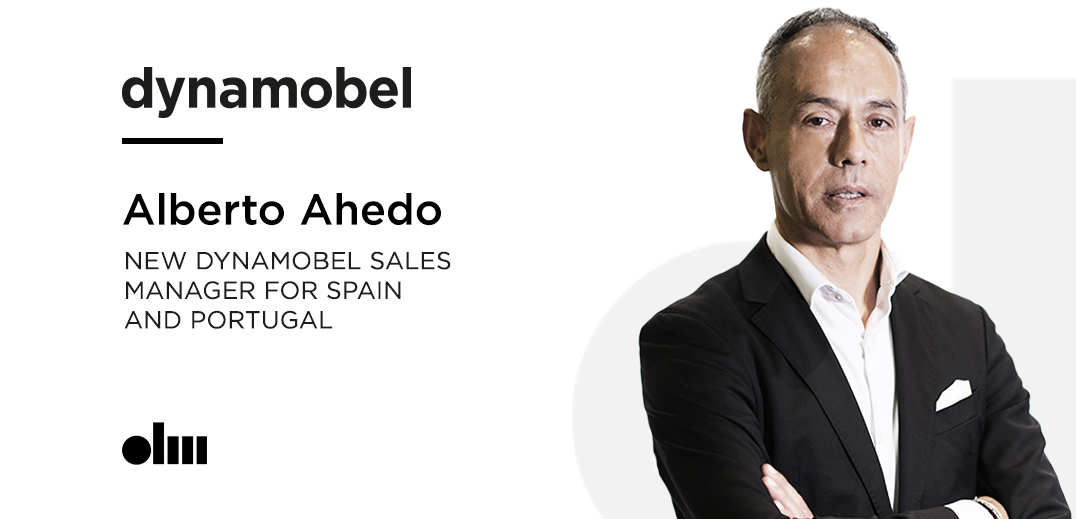 Alberto Ahedo, new Sales Manager for Spain and Portugal at Dynamobel
Alberto Ahedo, Dynamobel's Manager in France, is now also our Sales Manager for Spain and Portugal. This appointment has been made with the implementation of our new strategy, the main aim of which is to boost the national and international presence and expansion of the brand in the workspace furniture sector. 
Alberto has extensive experience in team management. He worked for more than 20 years as International Director for the household appliance company Fagor and was also Managing Director of the corkscrew manufacturer BOJ Global; in both positions, he was responsible for managing and developing professional teams at global level. 
In March 2022, he was named manager of the company in France; a position he will now combine with that of Sales Manager for Spain and Portugal. In his own words, he is taking on his new position as 'a very exciting challenge' and an 'opportunity to take Dynamobel closer and make it more visible to customers'. 
Objectives 
With this new role, Alberto will be responsible for achieving a set of objectives set out in Dynamobel's new strategy, including the following: 
Reinforcing the teams: we seek to enhance our staff to ensure a better service and a closer relationship with our customers.

 

Indeed, in France we have just brought in a new professional to join the staff, making for a team of 6 employees. This focus on strengthening our staff will also be applied in Spain in the near future.

 

New showrooms: in France and Spain, two key markets for Dynamobel. We have already taken the first steps to achieving this objective.

 

Firstly, we have moved our Paris showroom to a new location in the heart of the city: 32 rue Charles Baudelaire. The premises cover 300 square metres at a location more accessible and nearer to our French customers. We also plan to open a new showroom in Barcelona at the beginning of 2023, with which we will complete our strategy of having three spaces all of our own in Spain. We currently have exhibition spaces in Madrid and at our headquarters in Peralta, Navarra.
New sales resources: development of new products and sales tools such as an interactive price list, an online configurator and the first families in pCon.planner. All of these solutions focus on improving the service in our sales channel.
Attendance at leading events: Dynamobel will be taking part in 'The Design Room', to be held at MACBA, the Barcelona Museum of Contemporary Art, on 29 November

 

and will also attend the important 'Workspace Expo' trade fair in April 2023 at the Porta de Versailles venue in Paris.

 
And so Alberto Ahedo commences a new professional stage at Dynamobel with great and exciting challenges ahead of him.