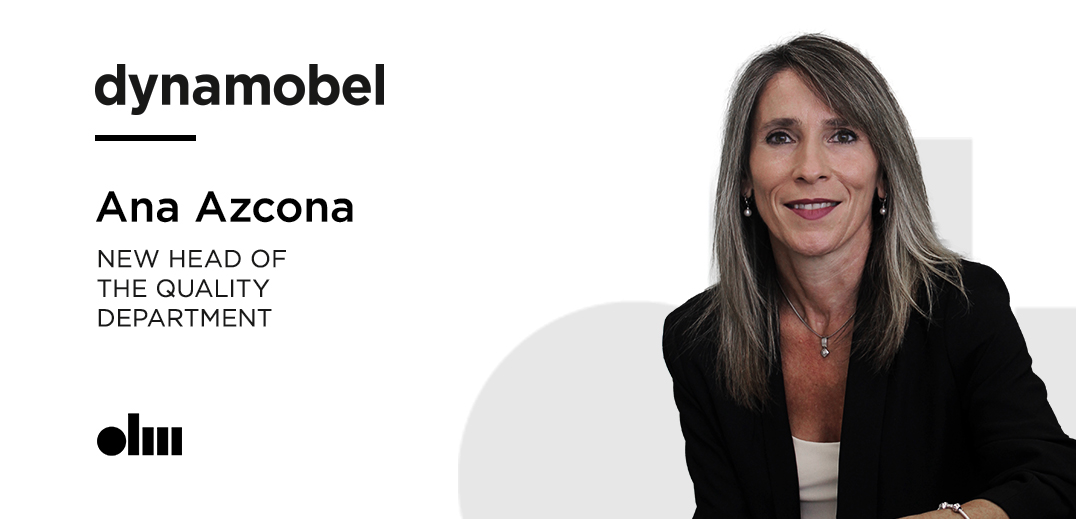 Ana Azcona, new head of Dynamobel's Quality Department
After 27 years of experience at Dynamobel, our Services Manager, Ana Azcona, is now also joining the Quality Department as its new manager. This appointment is part of the recent restructuring of our team and falls within the framework of our new business and commercial plan.
During her beginnings at Dynamobel, Ana worked as a sales manager and, as soon as she was given the chance, she began to lead several projects within the company. So much so that she received the 2020 Woman Executive of the Year Award from the Association of Women Entrepreneurs and Directors of Navarre (Amedna) in recognition of her leadership in these projects, which concerned different areas of Dynamobel, such as the initiatives which paved the way to all the company's general and product-specific ISO certifications or activation of its equality plan.
From now on, our Quality Department will be able to rely on the leadership and entrepreneurial skills that characterise Ana Azcona, who stresses how much she enjoys a challenge. 'There's no doubt about it, this is a great challenge which I face with a great deal of respect but also with great enthusiasm. Quality is, of course, something which affects the entire organisation; but I have the full support and backing of the entire Dynamobel team,' she explains. 
A new position and new objectives to meet: 'My mission is going to focus on bringing quality to the whole value chain at three levels which are fundamental to me: quality in information, in product and in service. And all without losing sight of our commitment to manufacturing and offering sustainable, eco- and human health-friendly solutions.' 
And so Ana's arrival opens the way to no end of new opportunities for quality, which is so important to our company.