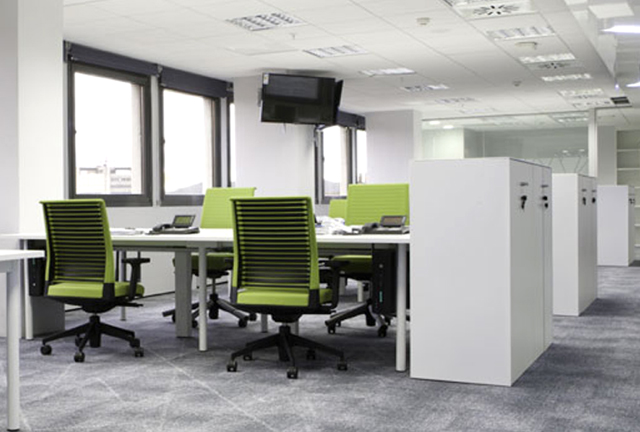 New Agencia EFE headquarters
Dynamobel furnishes the new headquarters in the Génesis building
Agencia EFE's new headquarters, the Génesis Building, was built in 1988 and has 18 floors of offices and three underground parking levels. The agency, the foremost Spanish-language news agency and the world's fourth largest wire service, will occupy fifteen of the eighteen floors, just over 11,000 square metres, as well as premises on the ground floor, where a television studio is be installed.
Miguel Allona masterminded the transformation of the building into a modern news agency for EFE, which is celebrating its 75th anniversary by opening new premises, the third new headquarters in its history, with a view to staying for good. "The transformation has been effected in record time and at a lower cost than that of other media", he reports. "If the office is pretty, the office works", he claims, adding that order in everything, even "in what you cannot see, like wiring", is vital.
The new headquarters has brand-new furniture, chosen to meet the Agency's technological requirements. Dynamobel's solution consisted of developing custom-made units with the chief objective of grouping work stations together and channelling cables to access points in the floor.
These spaces facilitate team work, while also assisting document filing, a fundamental part of day-to-day work at the agency. With these functions in mind, we developed a 1,600-mm Top storage unit with a single enveloping body, but, in turn, containing four individual storage units, each fitted with two shelves and a coat rack module.
The operator chair installed is the Slat16, which has been distributed throughout the headquarters in four different colours to make the premises livelier. The communal areas are equipped with Dublo desks with height-adjustable legs, Clic desks and Pad seating.