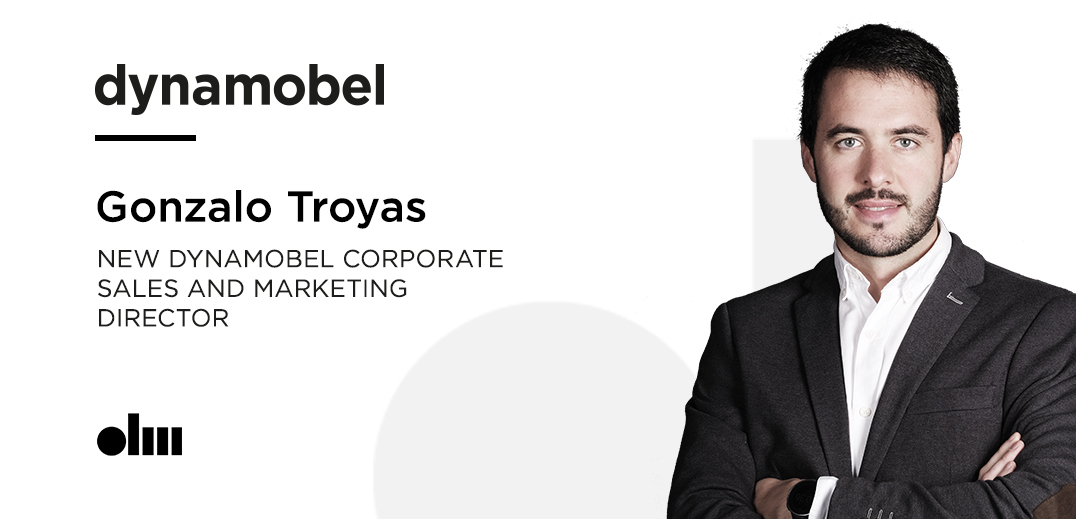 Gonzalo Troyas, new Dynamobel Corporate Sales and Marketing director
Gonzalo Troyas, until now in charge of International Sales, has taken on the position of Dynamobel Corporate Sales and Marketing Director. 
Gonzalo, an industrial engineer, joined the company in 2013 as Sales and Project Manager for the Americas. Since then, 9 years have passed and Gonzalo has played different roles in the company, including Project Manager and Partitions Manager.
'Since I started working at Dynamobel, I've been lucky enough to pass through different departments; from manufacturing to product development and services, and finally the sales department, where I've been working in different positions since the end of 2014. Personally, I believe that the Sales Department is key in a manufacturing company like Dynamobel since the value proposition and approach to the markets in which we work in our area mark the keys to success in a company,' the new Corporate Sales and Marketing Director explains. 
Faced with this new position, Gonzalo feels 'excited and very committed, because being able to lead Dynamobel's commercial strategy and the development of the team is a great challenge for me'. 
OBJECTIVES
As the new Corporate Sales and Marketing Director, Gonzalo takes on a range of business objectives, his main challenge being to lead implementation of the company's new strategy. 'My mission is to consolidate the company's relationship with our customers, lead the sales team and get the best out of each of our sales representatives, while maintaining and improving the differential value that Dynamobel has brought to the market over its 60-year history,' he says. To do this, his team is currently working on a value proposition which the company will put into operation from January 2023 with the aim of growing in the distribution channel both nationally and internationally.
Within this strategy, the company seeks international expansion and consolidation; a mission in which Gonzalo Troyas and his team play an important role. 'Dynamobel's sales abroad have historically accounted for around 30% of turnover, a percentage that we intend to increase to 50% over the next two years,' he explains. 
To achieve this goal, the company will focus on boosting sales in its second most important market: France. In this line, new staff have joined the French sales team and the company's Paris  showroom has been relocated to a more central location where other major brands in the industry are located. In addition to France, Dynamobel is focussing on the United Kingdom, the Americas and other European countries where actions are already being developed to boost sales and brand presence. 'In these markets, we have also created new sales teams and we're working on new sales tools to facilitate our distributors' work, such as an online configurator, presence in pCon.planner, an interactive price list and other tools and product developments,' Gonzalo informs. 
A new horizon with great challenges to meet awaits Gonzalo Troyas, as does a very exciting stage for him, his sales team and Dynamobel.