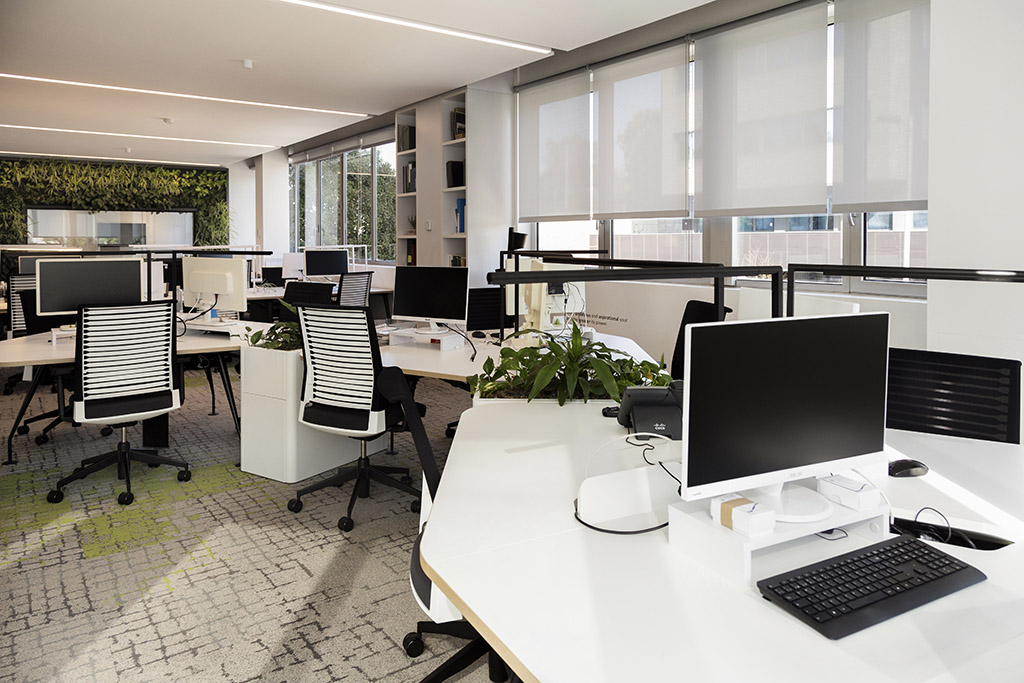 The Cradle to Cradle approach to creating healthy workspaces
We spend most of our life inside buildings; in our company offices, for instance. Can the environment we work in affect us? Recent studies confirm that the space around us plays a vital role in the quality of our professional and personal life. That's why companies are allocating more and more resources to creating workspaces that foster the physical and psychological well-being of their workers and respect for the environment.
Today we are interviewing the company Eco Intelligent Growth EIG, responsible, alongside the circular construction firm Construcía, for driving the Cradle to Cradle strategy, which creates healthy workspaces that can be perpetually cycled by applying the circular economy system. The methodology is based on 3 factors: the materials used must be healthy, must maintain their value over time and must help improve worker productivity.
EIG has just opened its new offices, where they have implemented their methodology and incorporated certified products, in the furniture and electrical system, for example. And they have turned to Dynamobel solutions to create their new workspace.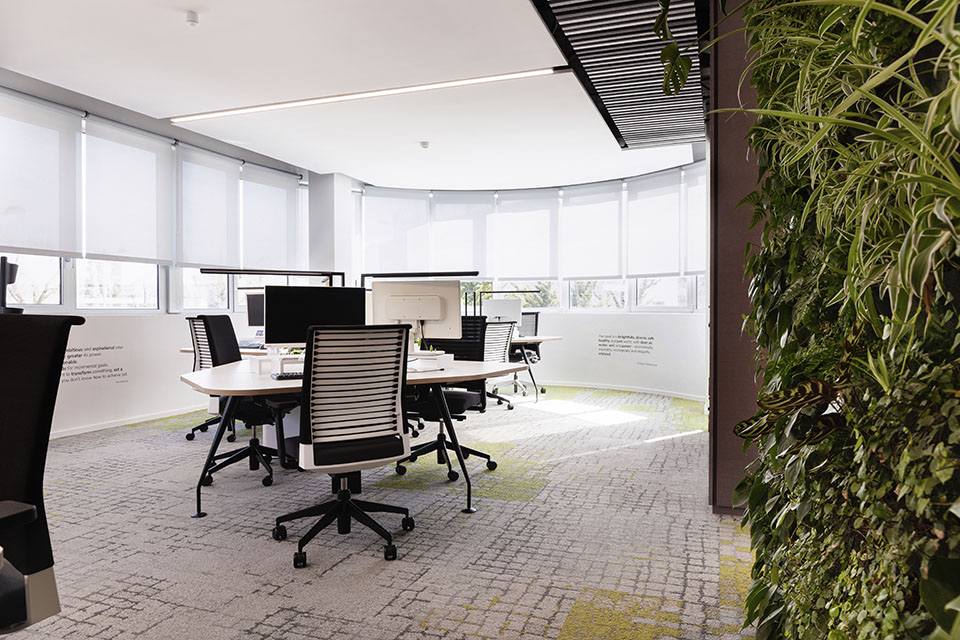 What is the circular economy? Why do you back it?
The circular economy is a new economic model which offers an alternative to the current model, known as the linear model, which is based on the production, use and disposal of products. Climate change and the devastation of forests and biodiversity are direct consequences of this model
The circular economy is regenerative by design and intent, as the Ellen MacArthur Foundation puts it. It resulted from the Cradle to Cradle® principles explained by W. McDonough and M. Braungart in their book "Cradle to Cradle: Remaking the way we make things", based on the service economy outlined by Walter Stahel, among others.
---
EIG was created to implement Cradle to Cradle in industry and building back in 2005, long before anyone ever talked about the circular economy. We have been committed and worked towards making this change at all levels ever since.
How did the Cradle2Cradle methodology come into being? What does it involve? 
Cradle to Cradle Certified is a methodology that came from industry itself. McDonough and Braungart advised companies like Herman Miller, Ford or Rohner Textile. These companies were trying to redesign their products so that the resources employed could be recovered by using healthy materials that could be perpetually cycled. And so they promoted the creation of a programme to highlight all this effort put into design.
C2C Certified™ started out as a certification system managed by two companies (MBDC and EPEA), which, with the creation of the Cradle to Cradle Products Innovation Institute, became an independent programme run by a non-profit organisation in 2010.
The programme focuses on five quality categories: Material Health, Material Reutilisation, Water Stewardship, Energy and Carbon Management, and Social Fairness. It is designed as an optimisation programme to help companies develop products that are healthy and safe for both people and the environment, and which can be perpetually cycled.
Where is the methodology used? 
It is a product certification programme applicable to any consumer or B2B product. It only excludes food and medicines, because they have very specific standards, and others, like fossil fuels and weapons, for ethical reasons.
What benefits does it bring? 
In addition to the benefits in terms of positioning and quality differentiation, companies very often improve how they make their products by avoiding unnecessary or redundant components and materials, and optimising them from the point of view of health and reuse. It is also an excellent exercise of transparency in the supply chain and identifies the best partners to advance towards new circular developments.
Have these circular economy methodologies been applied in projects with Dynamobel? 
Those companies that care about the circularity of their building projects very often use C2C Certified products. Construcía is a pioneer in this sense and, of course, Dynamobel's certified tables feature in several of its projects. Immediate examples are our own offices and Construcía's offices in Madrid.
DYNAMOBEL SOLUTIONS IN THE NEW EIG OFFICES
To create these healthy spaces and furnish its new offices, EIG looked to Dynamobel products, articles that adhere to the characteristics that a circular economy product should have.
Hexagonal Cell table and Bench Cell table to maximise productivity
The new Dynamobel office furniture programme "Cell" was designed to respond to the new work model that seeks to connect talent and promote collaboration. This solution allows users to work individually and privately, and hold interpersonal meetings from the same place, turning their work day into a more dynamic, comfortable and productive time.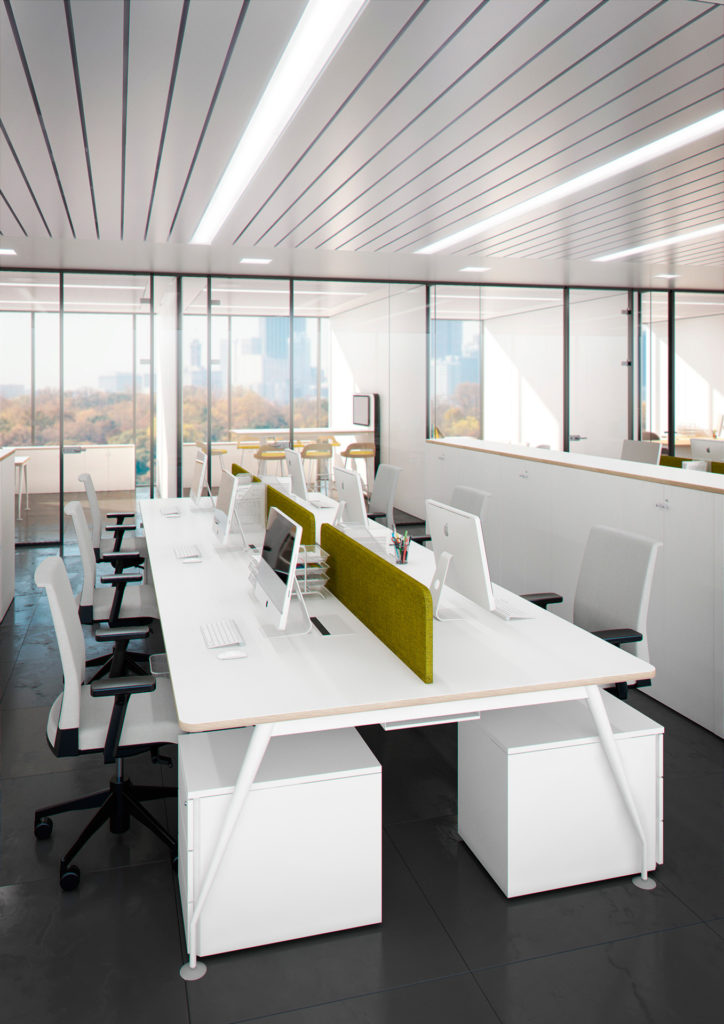 Slat chair, environmentally friendly and a long service life
The Slat chair stands out for its design and its backrest, the distinguishing feature that adds value and draws the eye to the product. Its quick-to-assemble, single-component structure makes recycling and on-site reupholstering easier, and also helps cut down on production and transportation times.
During the design of the chair, Dynamobel focused on its technical and aesthetic durability, and also incorporated functional features to lengthen its service life.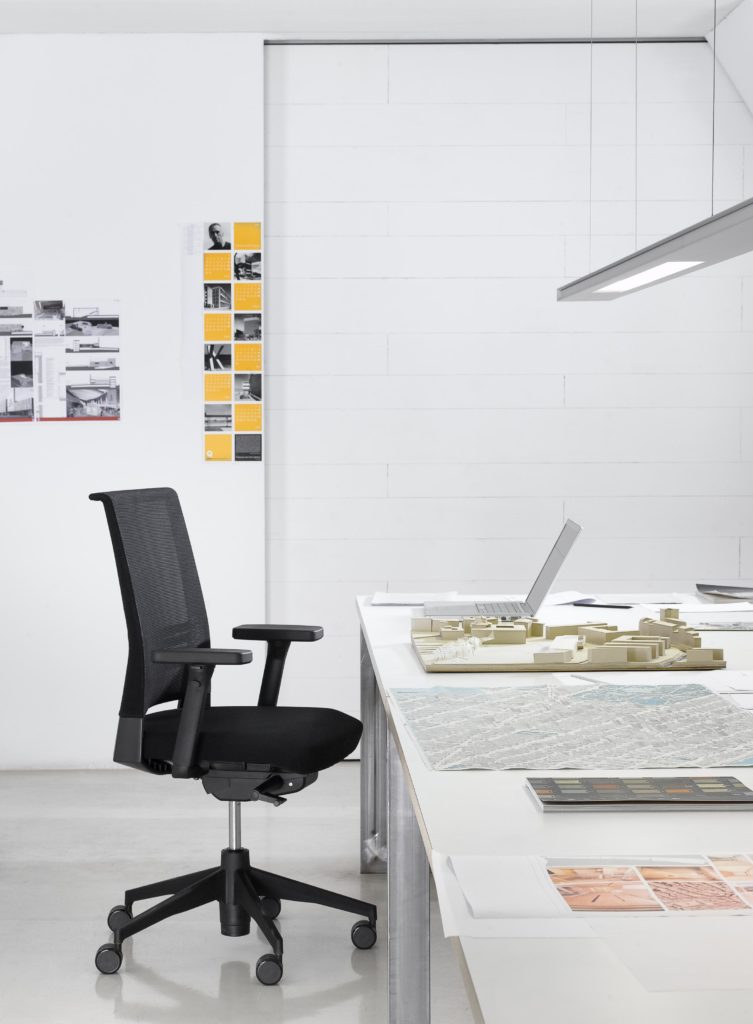 Be Wood chairs, a classic of the most contemporary kind but with a soul of wood
The well-known interior and industrial designer Francesc Rifé designed this visitor and meeting chair so that Dynamobel could bring it to life in its factory. The Be Wood chair reflects the pleasing paradox that exists between the surge of the metal industry and the great talent of our master craftsmen.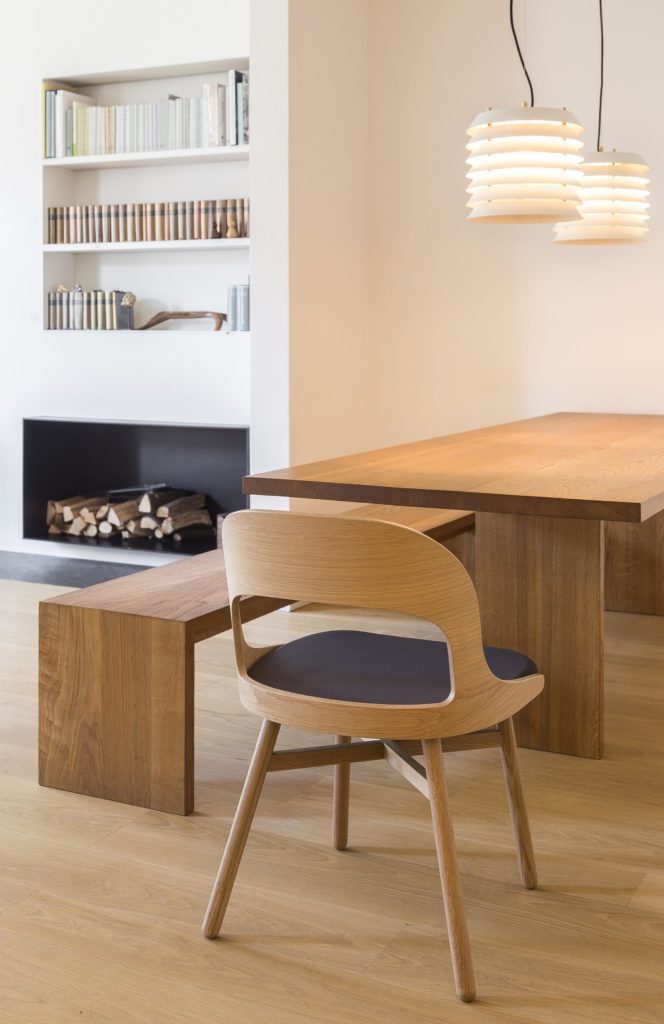 Be Wood tables, a minimalist approach with organic forms 
The Be Wood auxiliary tables allude to the same organic forms as the Be Wood seating collection designed by Francesc Rifé and made by Dynamobel. Seeking the purest of forms, the attention focuses on the legs and the design is completed with a round surface.