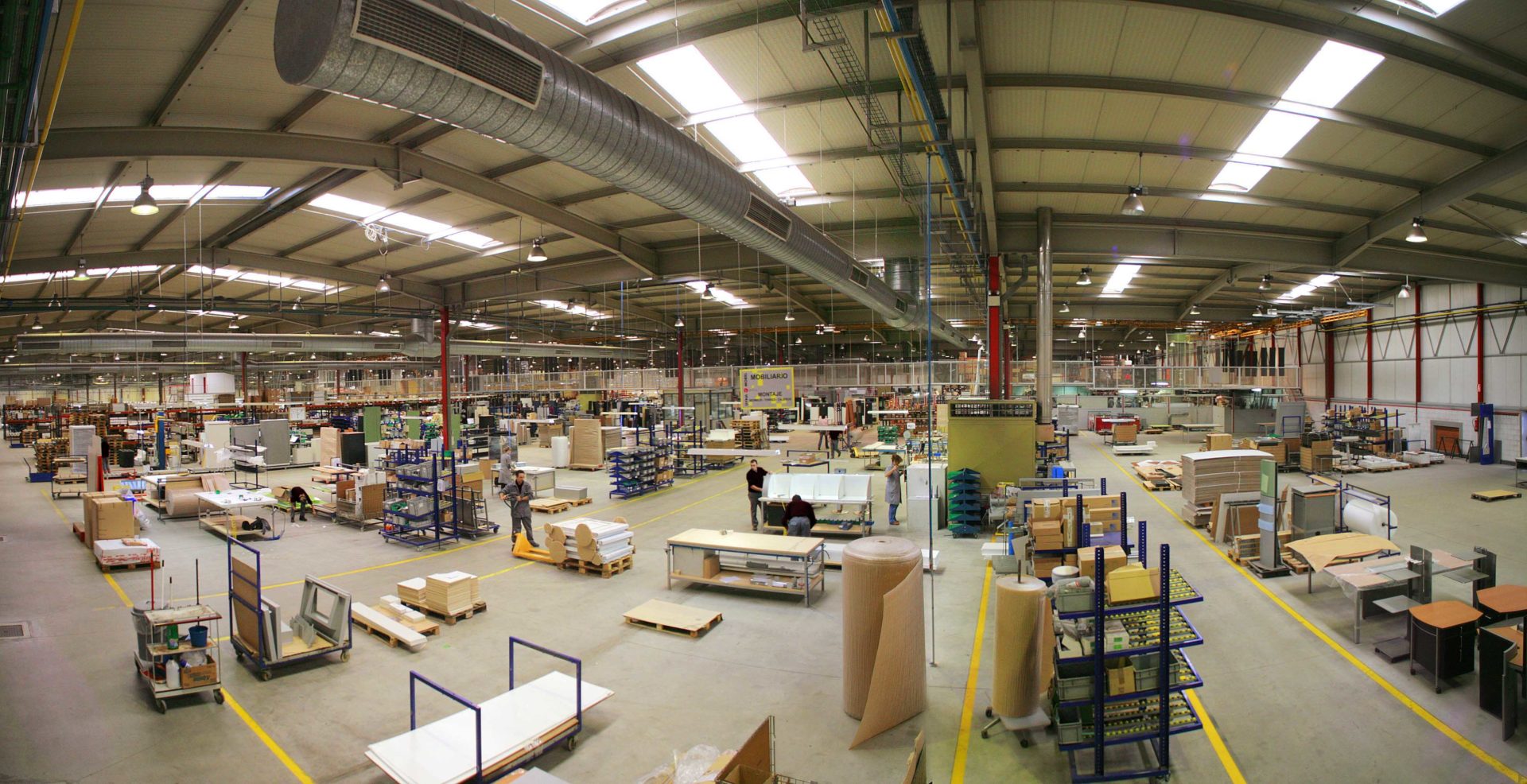 Launching our new industrial and commercial project
At Dynamobel, a company with more than 60 years' experience in the manufacture of innovative furniture for workspaces, we have launched our new industrial and commercial plan after ensuring our financial solvency and successfully completing a restructuring process. As part of this plan, we have undertaken a range of actions to guarantee the future of the company and the services we offer our customers, both current and future.
Among the measures we have adopted to strengthen the company is the new investment plan, which will affect both our production and management processes, and is designed to ramp up our efficiency and competitiveness in the short to medium term.
As a first step, we have decided to concentrate production at the Peralta plant, a move which favours our economic, environmental and social sustainability. This measure allows us to reduce distribution and delivery movements, make the most of synergies and reduce production costs, achieving improvements in productivity while reducing our carbon footprint. The new plan also involves improvements to and investments in our current production system at the Peralta Plant, which will be implemented in the coming months.
Alongside these developments, we have developed another series of actions:
NEW LOCATION OF OUR SHOWROOM IN FRANCE AND A NEW SPACE IN SPAIN
In order to consolidate our international presence, we have relocated our Paris showroom to the city centre, to a district in which most of the furniture distributors operating in France are concentrated. Our showroom is now located at 32 rue Charles Baudelaire. We have also hired a new professional to strengthen our French team, which now boasts 6 employees. 
Meanwhile, in Spain we plan to open a new showroom in Barcelona in the next few months to provide strategic customers in the area with a better service. This will redouble our presence is Spain, where we already have our Madrid showroom at 21 B calle Julián Camarillo, premises which serve as our business nerve centre, a sales office and a point of reference in Spain. We will shortly be strengthening this office by bringing in new professionals to join the team currently working in the Spanish capital. 
NEW SALES RESOURCES AND TOOLS
Dynamobel is working on the development and implementation of new sales resources and tools, such as an interactive price list, our own online configurator and the use of pCon.planner technology so our customers can create and plan 3D spaces with our products. 
DEVELOPMENT OF NEW FURNITURE SOLUTIONS
We are able to respond to market trends thanks to our capacity for research and conceptualisation of new innovative products. In this regard, in the next few months we will be launching new furniture onto the market to meet the demand for open, flexible and configurable offices, and will also be presenting innovations in some of our existing ranges with improvements in performance, design and finishes. 
NEW APPOINTMENTS IN THE DYNAMOBEL TEAM
Gonzalo Troyas, until now in charge of International Sales, is taking on the position of Dynamobel Corporate Sales and Marketing Director; Alberto Ahedo, the manager of the company in France, will now also be the Sales Manager for Spain and Portugal; and Ana Azcona, who occupies the position of Services Manager at the company, is also joining the Quality Department as the new manager of this area. 
ATTENDANCE AT LEADING INTERNATIONAL TRADE FAIRS
In the pursuit of our new business strategy, in which Spain and France play a central role, attendance at major furniture industry events in both countries will be key. 
Company representatives will be taking part in 'The Design Room', to be held at MACBA, the Barcelona Museum of Contemporary Art, on 29 November and will also attend the important 'Workspace Expo' trade fair, which will be held from 4 to 6 April 2023 at the Porta de Versailles venue in Paris. 
In short, we are facing a moment of true transformation at Dynamobel with the launch of all these innovations, which will allow us to further improve our position in the workspace furniture market. We'll keep you posted on the whole process!
ANNUAL SALES MEETING
Peralta, the town in Navarra where Dynamobel's headquarters is located, was the epicentre of the company's sales policy during November.
On the occasion of our Annual Sales Meeting, we brought together the Dynamobel executive team and the different sales teams from Spain and France to strengthen the new strategy we have just launched, a new plan which brings with it a wide variety of innovations in the company's industrial and commercial areas.