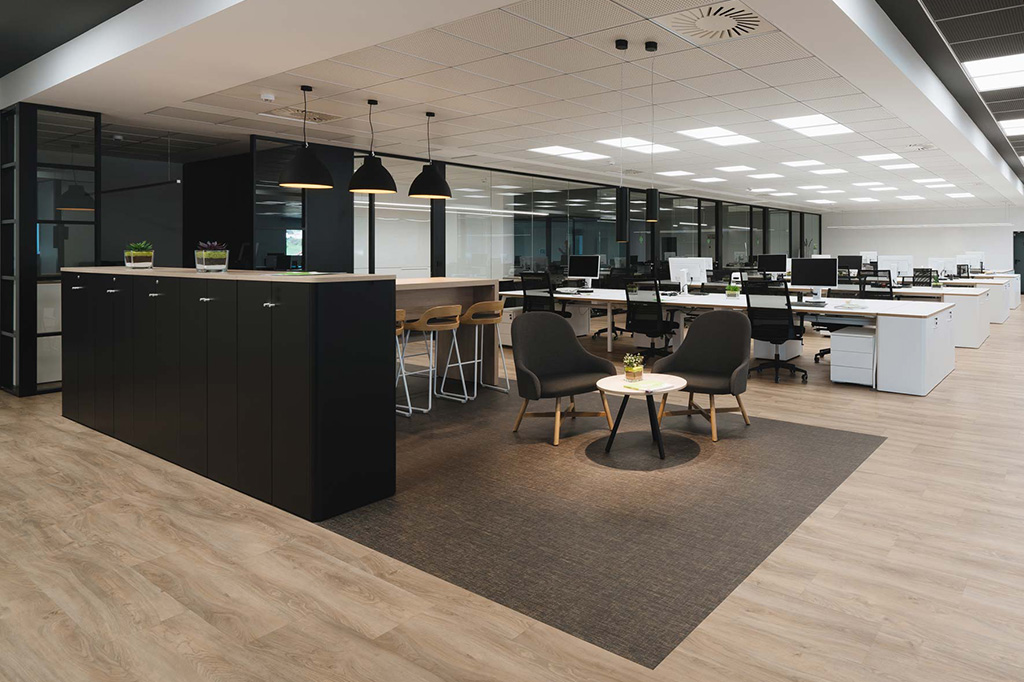 Flexibility. The architecture of a hierarchy designed for success
The atmosphere in a workplace is not only defined by people but also their perception within a certain context. We are sentient, visual beings with a concept of space which changes as we evolve. So, with the passage of time, we have embraced open spaces in which communication flows naturally without having to cross barriers that are architecturally obsolete, not only for the structure of the workspace but also for the immediacy with which we have to communicate nowadays.
The elimination of walls and closed rooms brings familiarity, trust and self-assurance to the work environment, basic attributes for the professionals in a company to develop their talent freely within the well-being and comfort needed to perform at their best in a versatile manner.
The way we work has changed radically. It is true that we still need areas where intimacy is important. Video meetings are the order of the day, and booths located within the same open space offer a perfect solution for times when greater concentration or privacy is required. It is essential to design furniture capable of accommodating different tasks depending on the needs of each moment.
Flexibility is the maxim when designing a work area, as it invites people to rotate, reducing in turn the idea of an obsolete hierarchical system and bringing the employee a feeling of belonging, which is very important if you want them to identify with the company's values.
Comfort goes hand in hand with performance. And that is why we have to offer solutions which respect our postural health, avoiding unpleasant long-term injuries. We must respect our professionals, of course, but also the environment. That is why we ensure the recyclability of our products in a sustainable manner, committing ourselves to the circular economy based on the Cradle2Cradle methodology, according to which Dynamobel certifies products such as the Cell desk and the Slat chair.
Happiness at work is no longer a trend and has become a reality, a common goal pursued by companies and employees alike. The search for well-being in the workplace has become part of the modern zeitgeist. The higher the level of happiness, the greater the level of creativity and commitment. It is the ideal fuel for developing talent and, consequently, for the positive results of a company that knows how to take care of the greatest asset sustaining it: its people.